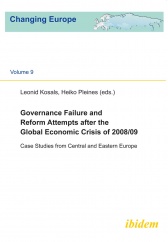 Leonid Kosals, Heiko Pleines (eds.):
Governance Failure and Reform Attempts after the Global Economic Crisis of 2008/09. Case Studies from Central and Eastern Europe
ibidem-Verlag, Stuttgart 2012, ISBN 978-3-8382-0336-2, ISSN 1863-8716
The global economic crisis of 2008/2009 has had a broad impact far beyond economic concerns. Most importantly, it has been seen as a crisis of governance and debates have not just questioned specific regulations, e.g. of global financial markets, but have additionally challenged the appropriateness of underlying governance concepts not only in global markets, but also at the national level.
For the post-socialist countries, which adopted market-oriented governance mechanisms less than two decades ago, the global crisis was the first stress test after the post-socialist recovery. The contributions in this book focus on the impact of the crisis and related reform attempts in two broad areas. The first area is financial and monetary policy, which has been chosen because it is at the core of the global crisis of 2008/2009. The second area is relations between business and state actors, which are important, because corruption and weak institutional frameworks can both seriously hamper reform attempts.
This book presents a selection of the papers discussed at the Changing Europe Summer School on 'The Impact of the Global Economic Crisis on Central and Eastern Europe' held in Moscow at the National Research University - Higher School of Economics in August 2011.
Country Analytical Digests