1968, Moscow Style: The Demonstration in Red Square
Fifty years ago this month, the poet Natalia Gorbanevskaia and seven other individuals protested in Red Square against the Soviet crushing of the "Prague Spring".


Quelle: Archiv der Forschungsstelle Osteuropa, FSO, 01-024 Gorbanewskaja.
Soviet mass media declared the "unanimous support" of the Soviet people for the gesture of "fraternal aid" to Czechoslovakia on August 21, 1968. On August 25, Gorbanevskaia and seven other protesters gathered on Red Square with homemade signs demonstrating that, at a minimum, support was not unanimous. Photograph #1 shows their most resonant banner: "For your freedom and ours." This slogan, whose lineage goes back to a demonstration in Warsaw in 1831 to commemorate the Decembrist uprising in Russia six years earlier, and which was subsequently borrowed by the Russian aristocratic socialist Alexander Herzen to express his support of the Polish uprising of 1861, captures an essential quality of the Soviet dissident movement: its faith in the power of transnational public opinion.
The demonstration on Red Square lasted just a few minutes; most of the protesters were beaten and arrested on the spot. Gorbanevskaia, who arrived with a baby carriage containing her son Yosif along with several carefully hidden banners, was sent to a psychiatric prison. Despite the absence of any direct photographic documentation of the event itself, the August 25 demonstration in Red Square achieved world-wide fame.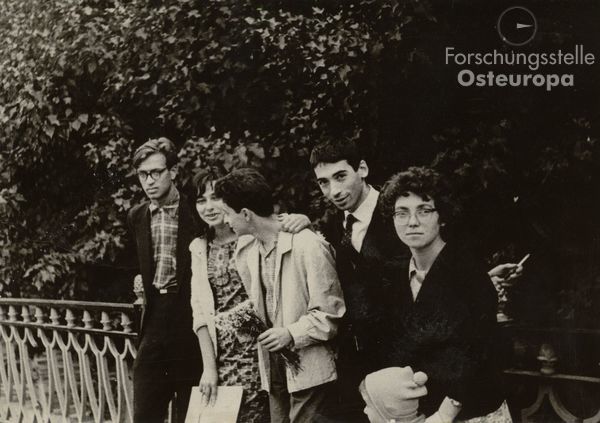 Quelle: Archiv der Forschungsstelle Osteuropa, FSO, 01-024 Gorbanewskaja
.
How did Gorbanevskaia arrive at this historic moment? In November 1956, while attending a lecture at Moscow University, she was summoned to the dean's office and from there taken to the Lubianka, the notorious KGB prison. Two of her friends had secretly distributed leaflets denouncing the Soviet Union's suppression of uprisings in Poland and Hungary that year. Forced to wear prison garb and placed in a cell, she held out for a day and a half before deciding – based on what she later came to regard as "shameful self-deception" – that as a member of the Communist Youth League, she should tell her interrogators the truth. Released three days later, Gorbanevskaia became the sole witness for the prosecution in a trial that resulted in multi-year prison terms for her two friends.

She fell into a deep depression, horrified that she had betrayed her friends. She began to hear voices at night and to experience feelings of disgust whenever she touched a book or a piece of paper. A decade later, when she decided to be baptized, she was told that ritual immersion would lift away all her sins, "but still I didn't forgive myself for this one."

Photograph #2 shows Gorbanevskaia (far right) in 1965 at Tartu University, in Soviet Estonia, where she had resumed her studies, now with the renowned cultural theorist Yuri Lotman. She is pictured with her older son Yaroslav and fellow students Viktor Zhivov, Gabriel Superfin (director of the FSO archive, 1995-2009), Irina Odakhovskaia, and Nikolai Pertsov.

Gorbanevskaia's poems, intimate and devoid of political intonation, appeared in some of the earliest samizdat journals edited by Yuri Galanskov and Alexander Ginzburg. She was among the first to sign petitions supporting them after their conviction in January 1968 - a gesture, perhaps, toward atonement. At the end of the twentieth century, looking back on her participation in the demonstration on Red Square, Gorbanevskaia penned the following poem:

А на тридцать третьем году
я попала, но не в беду,
а в историю. Как смешно
прорубить не дверь, не окно,
только форточку, да еще
так старательно зарешёченную,
что гряда облаков
сквозь нее — как звено оков.

In my thirty-third year I fell
not into misfortune
but into history. How absurd
to carve out neither a door, nor a window,
but just a small transom,
one barred so intently,
that through it a bank of clouds
looks like links on a chain.

Permitted to emigrate in 1975, Gorbanevskaia settled in Paris and worked as a writer and editor at Kontinent, Russkaia mysl', and Radio Liberty. She began to donate her personal papers to the FSO archive in 1997 and continued to do so until shortly before her death in October 2013. The entire collection has now been catalogued thanks to generous financial support from the Deutsche Forschungsgemeinschaft as part of its "Generation Kopelew" project.
Further Information:
Natalia Gorbanevskaya: Red Square at Noon. Trans. Alexander Lieven, New York 1970. (Natalia Gorbanevskaia: Polden': delo o demonstratsii na Krasnoi ploshchadi 25 avgusta 1968 goda, Moscow 2007).

Liudmila Ulitskaia: Poetka. Kniga o pamiati: Natalia Gorbanevskaia, Moscow 2014.

Dieter Wedel: Mittags auf dem Roten Platz (Fernsehfilm in zwei Teilen), Norddeutscher Rundfunk 1978.


Benjamin Nathans